Our Company was incorporated as Manas Properties Private Limited on November 02, 2004 under the Companies Act, 1956 with the Registrar of Companies, Mumbai bearing Registration No. 149362., subsequently the company was converted into public company i.e. Manas Properties Limited vide certificate of conversion dated, January 05th, 2017.
 Our Company is primarily into the business of acquiring properties and leasing / letting it out to our clients thereby earning lease rentals / license fees as consideration, as well as earning price appreciation (as the case may be). Currently our company owns a property admeasuring approximately 3,078 square metres of built up area located at Plot No 16, Juhu Tara Road Santacruz (West), Mumbai -400049, which has been leased out to Junobo Hotels Private Limited, for operating "Soho House" , a private luxury club the lease rentals of which shall be received from financial year 2017-18. 
 Further our company also acts as a real estate marketing and consultancy company; wherein we support sales/ lease targets of builders/ developers in return for commission on a fixed/ percentage basis. Currently the real estate marketing and consultancy business is being carried out for our Group Company; i.e. Dev Land and Housing Private Limited and we have begun the process of entering into such agreements with other developers in order to expand our customer base and available inventory portfolio for clients for providing these services. Further we intend to add clients by word of mouth and high quality performance in this segment.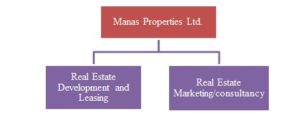 We operate through our office located at 10th Floor, Dev Plaza, Opposite Andheri Fire Station, S.V. Road, Andheri (West), Mumbai -400058.
About the Group
The DLH Group established and led under the able & inspiring leadership of its Chairman Mr. Vijay Thakkar is engaged in the business of construction of quality residential and commercial complexes. A visionary, Mr. Thakkar has successfully undertaken and delivered development projects, including in Mumbai – the financial hub of a fast emerging Indian economy and a city with some of the costliest real-estate in the world.
 DLH Group has so for constructed various projects, comprising of commercial, residential and commercial-cum-residential projects, in the western suburbs of Mumbai and in Thane. Further the group has high number of projects, which are currently under construction.
 A few landmark projects of the DLH Group are as under:
Jack and Jones Showroom – Santacruz (West)
DLH Swan Lake- Kailash – Andheri (West)
DLH ABM House – Bandra (West)
DLH Square – Juhu (JVPD)
DLH Park- Goregaon (West)